College of Nursing
INTRODUCTION
College of Nursing, AIIMS, Jodhpur was established in 2013 with an intake of 60 B.Sc. (Hons.) Nursing students, which is currently admitting 100 B.Sc. (Hons) Nursing students annually. College is dedicated and committed to the vision of training and grooming of nurses by offering premier quality teaching with modern technology, skill proficiency via learning by doing technique and educational guidance in clinical and research areas of modern nursing. College provides a harmonistic environment for learning through a unique model of mentee-mentorship program. This institute has state-of-art facilities of lecture theatres with the new technology of educational modalities, seminar halls, nursing skills labs with High-to-Intermediate Fidelity Simulators, and a fully-fledged library with state-of-art facility of e-library. Nurses are groomed and trained by a troop of well-trained and experienced faculty of par excellence with international standards. Presently, the college is offering B.Sc. (Hons.) Nursing, M.Sc. Nursing, Ph.D. courses, and several short-term refresher courses to nurse clinicians, nurse academicians, and nurse researchers.
MISSION STATEMENT
To establish a center of excellence in nursing education, training and research imbued with values, scientific culture, compassion for the care of the sick, and commitment to serve the underserved.
VISION
The vision is to produce highly competent nurse clinicians, advanced nurse practitioners, nurse educationists, nurse administrators, and nurse researchers to meet regional, national and global nursing human resource needs.
AIM
Providing comprehensive, innovative, and integrated learning experiences in the field of nursing by designing and implementing curricula in which students develop critical thinking, decision-making skills, clinical judgment, cultural sensitivity, and professional nursing values in an increasingly complex healthcare system.
OUR CORE VALUES
The core values of this institute are Empathy, Professionalism, Dignity, Integrity and Compassion. Nursing of Nursing has dynamic competency-based curriculum for all nursing programs which based on Quality and Safety Education for Nurses (QSEN) competencies and National League of Nurses Hallmark of Excellence in Nursing Education as illustrated below.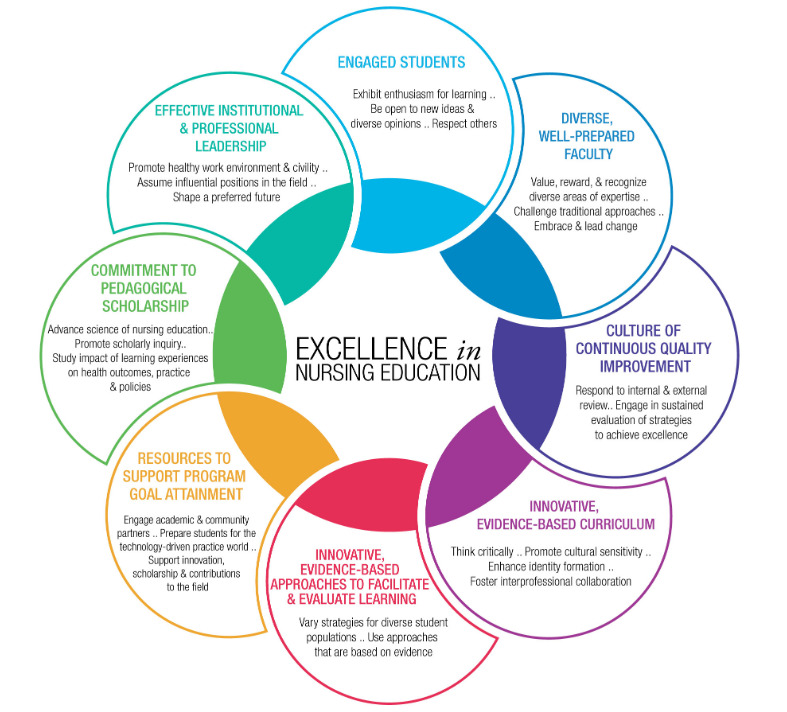 OBJECTIVES
To train nurse clinicians, clinical nurse specialists, and advanced nurse practitioners.
To prepare future nursing leaders, nurse academicians, and nurse researchers by offering postgraduate and doctoral-level nursing education.
To develop research evidence, data, innovations, patents and literature related to nursing in the country.
To offer short-term programs, training, and refresher courses for nurse clinicians, nurse administrators, nurse educators, and nurse researchers.
To provide the best quality of nursing care to individuals and families through the integration of nursing education and service.
To train and educate nursing students so that they can make a significant contribution in all branches of nursing for the promotion of health, prevention of diseases, maintenance of health, and care during illness.
To develop a research-oriented view among the nursing professionals in nursing education and practice.
To develop and implement a continuing education program for different levels of nursing professionals for their professional growth and development.
To demonstrate a commitment to leadership and professionalism through the delivery of socially, ethically, and economically responsible client care.
COURSES OFFERED
Name of the course

Duration of course

Annual Intake

Objectives/ brief description of the course

B. Sc. (Hons) Nursing

4 Years

100

To prepare nursing graduates to assume responsibilities as professional competent nurses & midwives in providing promotive, preventive, curative & rehabilitative services.

M.Sc. Nursing

1. Medical-Surgical Nursing

a. Critical Care Nursing

b. Cardiothoracic Vascular Nursing

c. Neuro-Sciences Nursing

d. Oncological Nursing

e. Orthopedics Nursing

f. Nephro-Urology Nursing

2. Obstetric & Gynecological Nursing

3. Pediatric Nursing

4. Psychiatric Nursing

5. Community Health Nursing

2 Years

33

03

02

02

03

02

02

04

06

04

05

To prepare nurses to assume responsibilities as clinical nurse specialists, educators, administrators, and advanced nurse practitioners in a wide variety of professional settings. The candidates are prepared to function in a leadership position in selected areas of clinical specialty, nursing education, nursing administration, and in nursing research.

Doctor of Philosophy (Ph.D.)

3 Years

[Full Time]

Based number of guides

Doctoral education is to prepare nurse scholars who will contribute in development and dissemination of evidence based nursing knowledge to enhance quality of care, education, administration and research in nursing and take role of leadership in nursing at institutional, national, and international levels.

Diabetes Management Program for Nurses

Digital Self-Paced Program

NA

This program is designed in collaboration with the India-Sweden collaboration activity as a 'Skill for Scale' for upskilling nurses in the management of diabetes and other NCDs.

Web link to join the Program: https://medisage.online/DNP]