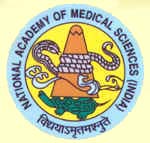 NAMS

The National Academy of Medical Sciences, constituted as it is of highly selected leaders in biomedical sciences, is a unique institution which combines academic excellence as its goal.
The Academy has been most fortunate in having received the blessings of late Shri Jawaharlal Nehru, the then Prime Minister of India who formally inaugurated the Academy on the 19th December, 1961. The first Convocation of the Academy in 1963 was graced by Dr. S. Radhakrishnan, the then President of India, who delivered the Convocation Address.
Over the years, the Fellowship of the Academy has become a most cherished and coveted hallmark of distinction awarded through a well-structured and regulated system of peer review, and in recognition of outstanding achievements in biomedical sciences, medical education, and professional excellence. In essence, the Academy advocates not only recognition of excellence, but also seeks relevance in excellence.
The Academy constitutes the forum both for the acquisition of knowledge as also for its translation to enhancing human health.

AIIMS Jodhpur

AIIMS Jodhpur is an institute of national importance and one of the six new AIIMS established by the Ministry of Health & Family Welfare, Government of India under the Pradhan Mantri Swasthya Suraksha Yojna (PMSSY), with the aim of correcting regional imbalances in quality tertiary level healthcare in the country, and attaining self sufficiency in graduate and postgraduate medical education and training.

Jodhpur

The former capital of Marwar state, Jodhpur, was founded in 1459 by Rao Jodha. According to Rathore tradition, the clan traces its origins back to Lord Rama.
The city of Jodhpur has grown around the magnificent Mehrangarh Fort. The old walled city is protected by a high stone wall with seven gates (Nagauri gate, Merati gate, Sojati gate, Jalori gate, Siwanchi gate and Chand pol) and countless bastions.
The 'blue' city of Jodhpur is the second largest city of Rajasthan enriching the desert with entrepreneurship, scholarship and art. The city is proud to have institutions as AIIMS, IIT, NLU, NIFT etc. Handicraft industries of Jodhpur are one of the world's best.
Sightseeing in Jodhpur:
Mehrangarh Fort, Jaswant Thada, Umaid Bhawan Palace, Girdikot and Sardar Market, Tulhati Mahal, Museum, Mandore.